Top image: Reuters / Jeremy Lee
Singaporeans consume news on a daily basis. Receiving news in a timely, accurate and unbiased fashion is what we expect. It's no different for sports fans who look forward to watching match highlights or reading the latest about their favourite teams or athletes.
Traditional print media have been facing intense competition for eyeballs from online media. But how are Singaporean newspapers responding to the ongoing battle for readership?
Let's examine one specific area – sports journalism – to see how much Singapore's mainstream print media deserve their subscribers' trust.
To do this, we'll start by assessing their coverage of two pieces of major sports news that broke on Sunday (Jan 13):
1. The historic victory (21-19, 21-18) by the Republic's newest badminton sensation Loh Kean Yew over China's two-time Olympic champion and six-time All England winner Lin Dan in the Thailand Masters final in Bangkok.

2. Lions striker Ikhsan Fandi's newly inked two-year professional contract with Norwegian second-tier club Raufoss IL.
Here are the facts illustrating the significance of Loh's triumph: The 21-year-old is currently ranked 125th in the world, while 35-year-old Lin is No. 13. Although the Singaporean only completed his full-time national service three months ago, he still managed to defeat a much more accomplished and full-time player. Loh's win also gave him his first title in the Badminton World Federation's World Tour.
Ridiculous as it may be, outstanding facts about one of our own national athletes sometimes may not be enough to impress newspaper editors. In terms of providing timely coverage of Loh's victory, Berita Harian (BH) failed.
BH didn't report on Loh's heroics in its Monday (Jan 14) edition … at all! Its front page carried only the other major piece of sports news – Ikhsan's professional contract in Norway.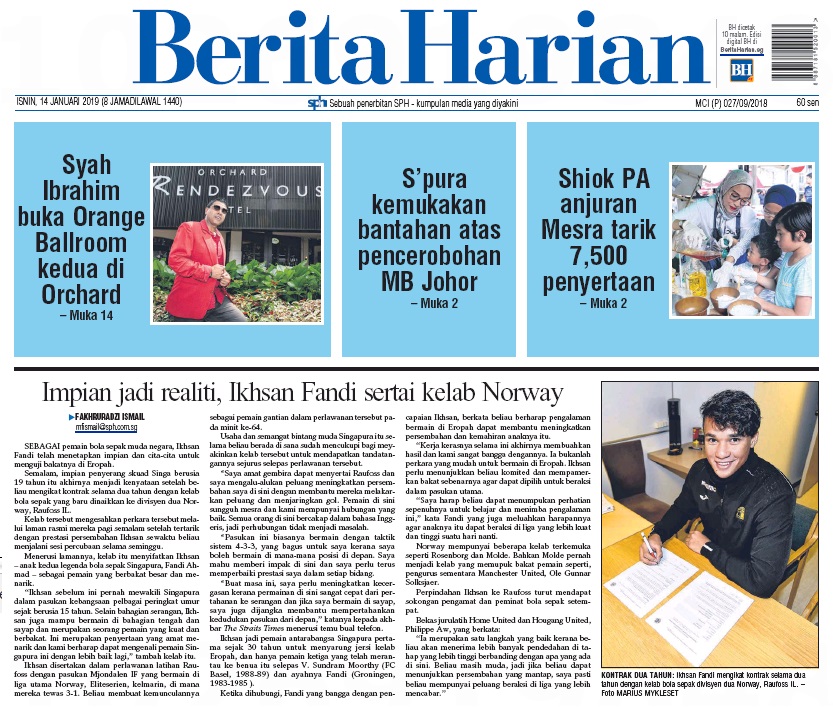 BH could have featured Loh on its Sukan page, but it decided to focus on a bunch of foreign women instead – a woman who coaches a men's football team in Syria, and women who work in senior management positions at English Premier League clubs.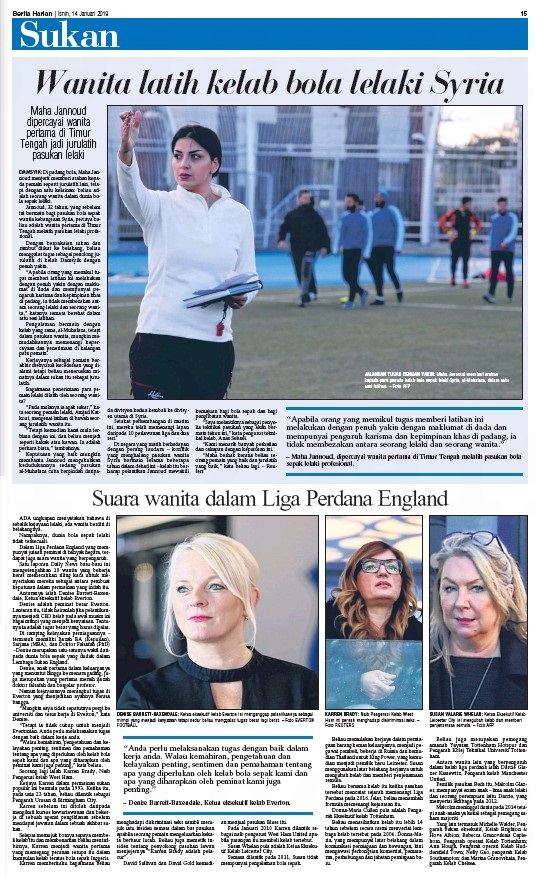 Making the BH coverage even more bizarre is the fact that the two foreign sports stories are hardly time-sensitive and hence could easily have been pushed back to a later date to free up space for Loh.
If you're wondering whether BH has the earliest off stone compared with The Straits Times (ST), Lianhe Zaobao (ZB), Tamil Murasu (TM), and The New Paper (TNP), check out this Singapore Press Holdings webpage. BH has the latest news deadline (9:30pm), and I've been told by an SPH journalist that it's not uncommon for the official news deadlines to be extended by one to two hours.
The question is why, among the five papers, BH was the only one that didn't report on the badminton match in its Monday edition.
BH published a report of Loh's historic victory only in its Tuesday (Jan 15) edition, two days after he had beaten Lin.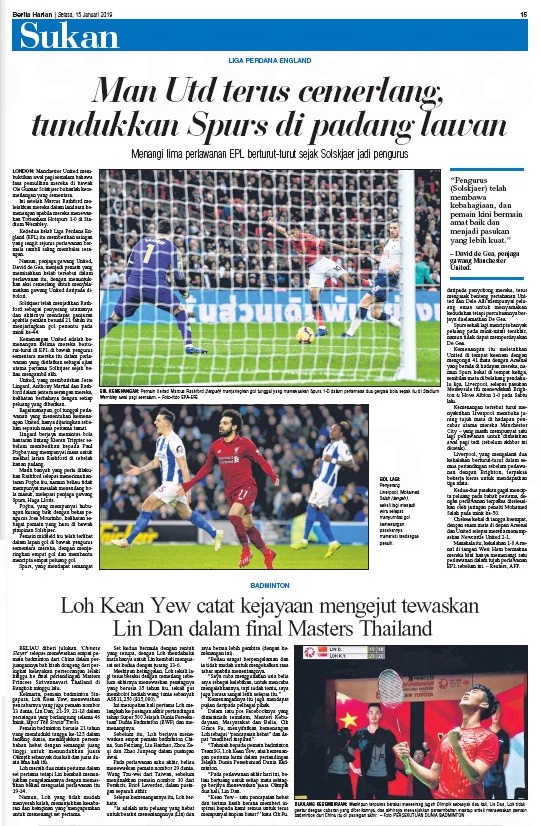 TNP and TM both did a better job than BH, featuring Loh and Ikhsan on their sports pages on Jan 14.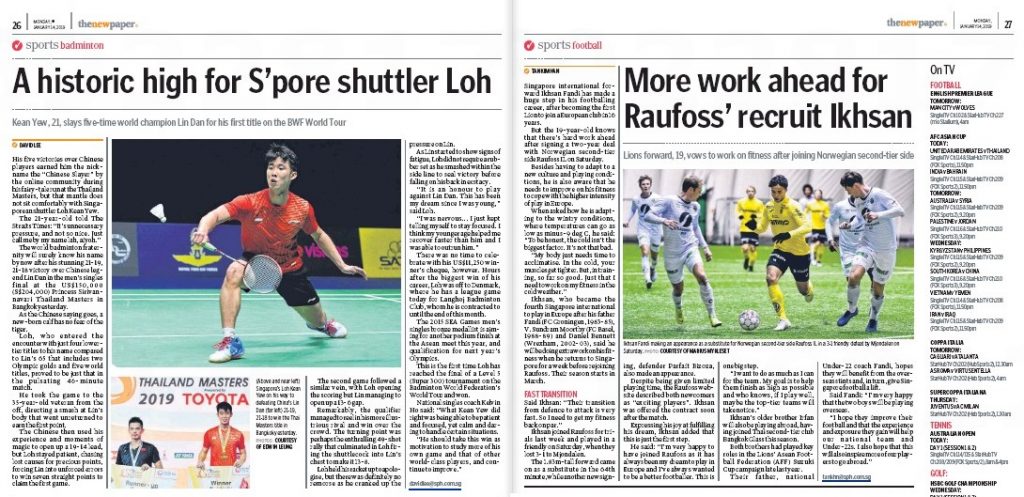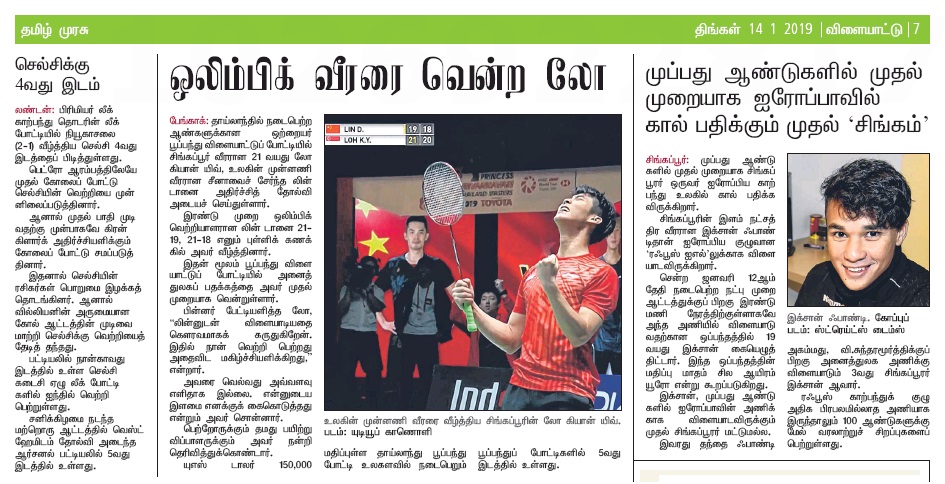 The best coverage, however, was seen in ST and ZB. Both broadsheets featured Loh prominently on their front pages, with a teaser to direct readers to a different page that carried a report on Ikhsan.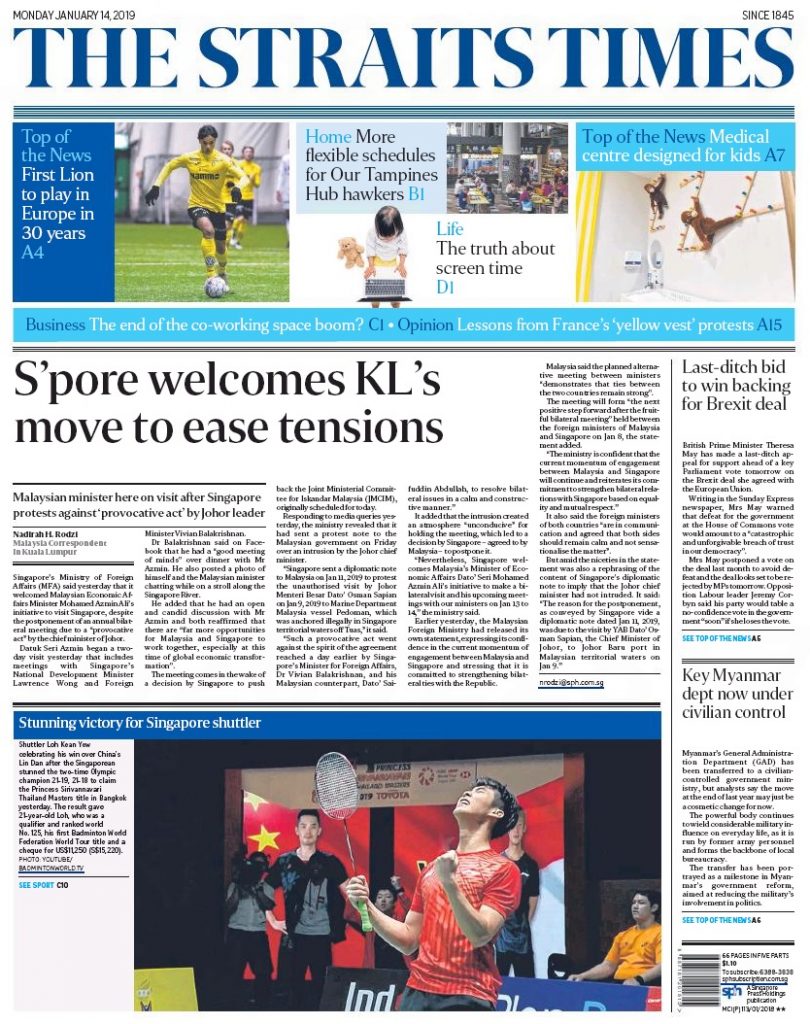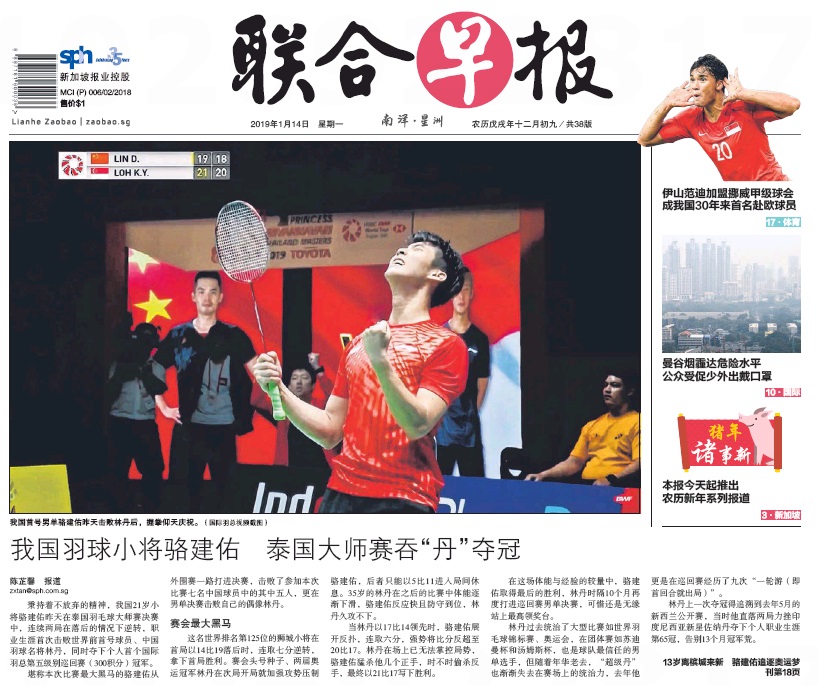 Kudos to Singapore's two largest newspapers for recognising the scale of Loh's victory over Lin. Sports stories rarely make it to the front page of any newspaper, but in the case of Monday's ST and ZB, it was completely appropriate to have the young shuttler on their front pages.
Although ST had exercised sound editorial judgement in its coverage of Loh's giant-killing act, Singapore's largest daily is not immune to poor editorial decisions or questionable reporting from time to time.
For instance, let's examine ST's coverage of the Lions' 6-1 win over minnows Timor-Leste in the Nov 21 ASEAN Championship match.
if we're seeing bias even in the reporting of an activity that's meant to entertain Singaporeans, isn't it likely that we'll also see bias in the reporting of political issues that affect our lives?
Singapore's victory was expected. The scoreline was a welcome bonus.
But the most eye-catching part of that match was the three goals scored by Safuwan Baharudin – a defender. It was a historic hat-trick.
Why historic? Because Safuwan is the first defender to score a hat-trick for Singapore. The other thing to bear in mind is that it's rare, in fact extremely rare, for a defender to score more than two goals in a single match.
Whether a paper decides to highlight the match outcome on its front page or not is immaterial. An editorial decision either way is perfectly fine.
The day following that match, ST decided to publish a picture of the game on its top page. Great! ST was providing prominent coverage on Singapore football and not just on the English Premier League. You would have expected the front-page picture to show the Lions' historic hat-trick hero Safuwan, correct?
But, shockingly, ST featured Ikhsan on its front page while match hero Safuwan was relegated to its Sport section.
Note that Safuwan not only scored a hat-trick, he also knocked in the match-winning goal for Singapore. What else does a player need to do?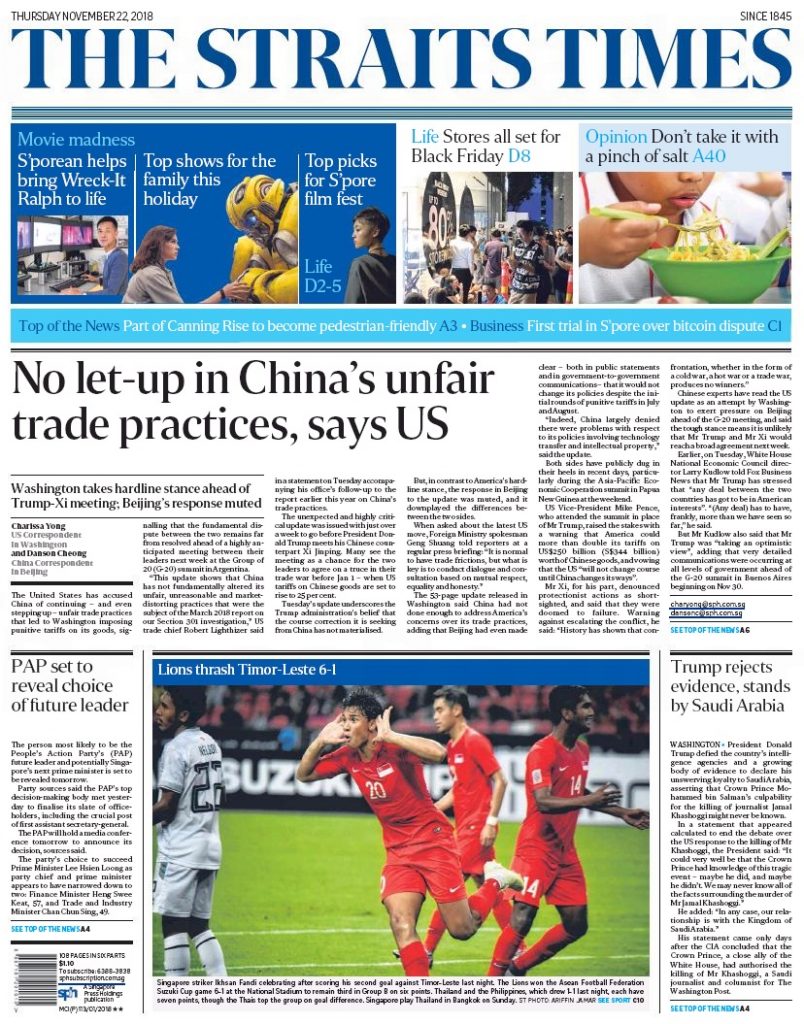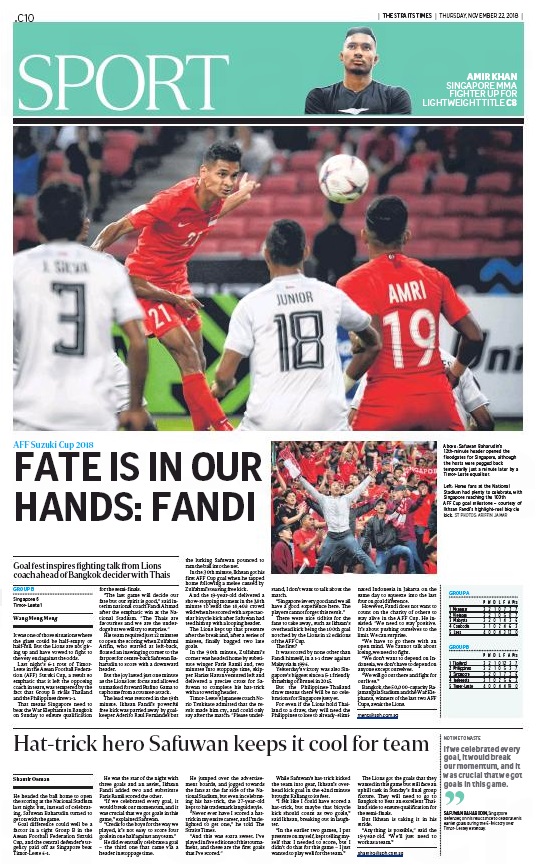 So, what's the big deal? Doesn't ST have the right to choose which player to feature on its front page? It does, of course. But it's also a big deal because it speaks to bias. Although nothing was technically inaccurate in the ST report on Nov 22, news reporting sometimes may contain bias despite being 100 percent factually accurate.
ST readers who don't normally follow Singapore football may be led to believe that Ikhsan was the hero of the Nov 21 match when the toast of the Lions that night was clearly Safuwan.
If you're still in doubt, check out how ZB, BH, and TM covered the Singapore vs Timor-Leste match.
Both BH and TM featured Safuwan on their front pages. Neither paper published any pictures of Ikhsan.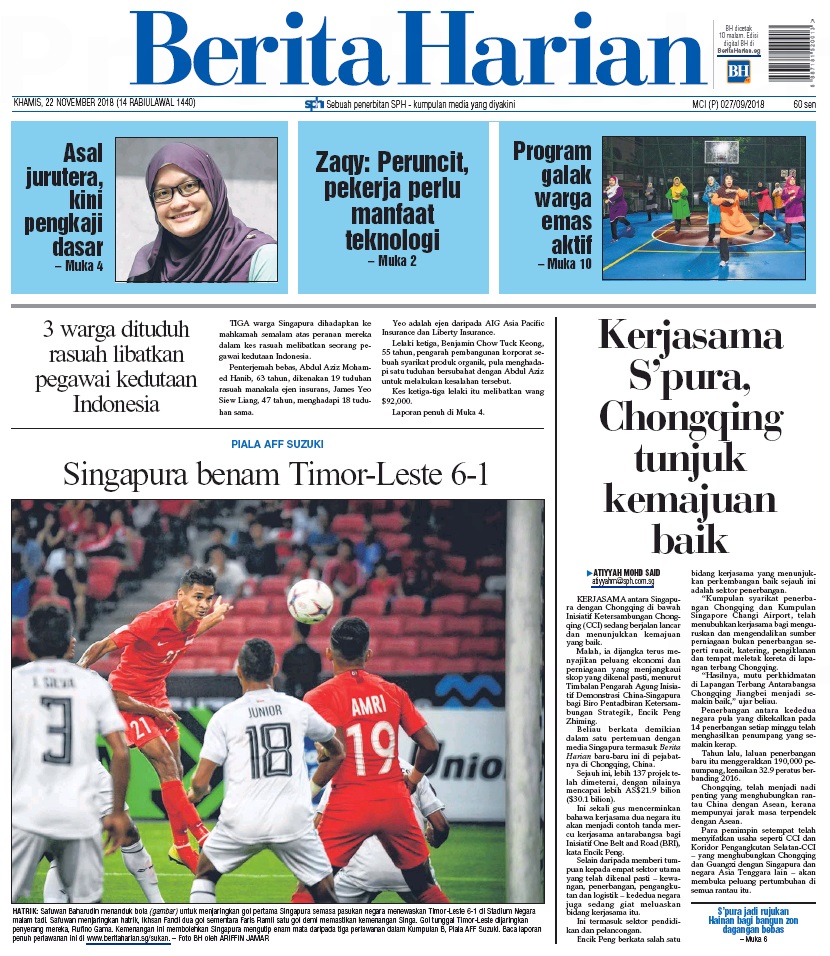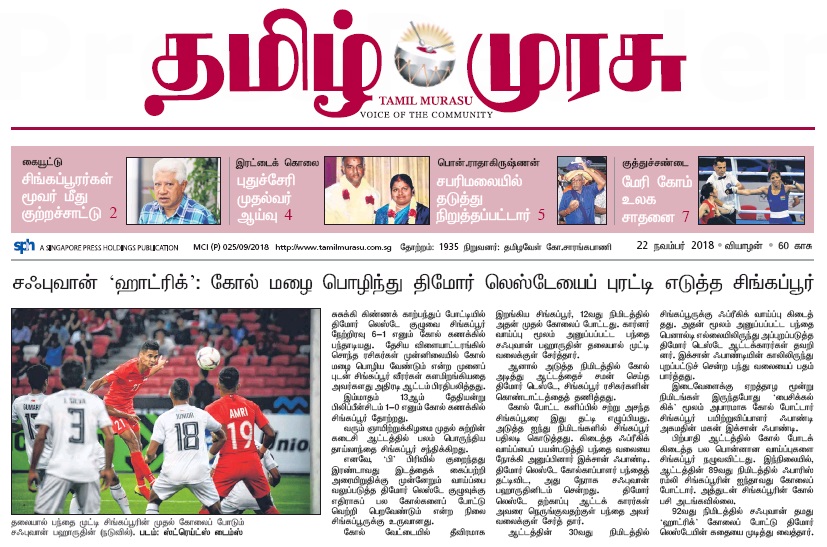 ZB carrired a picture of Safuwan on its sport page. No photo of Ikhsan was published.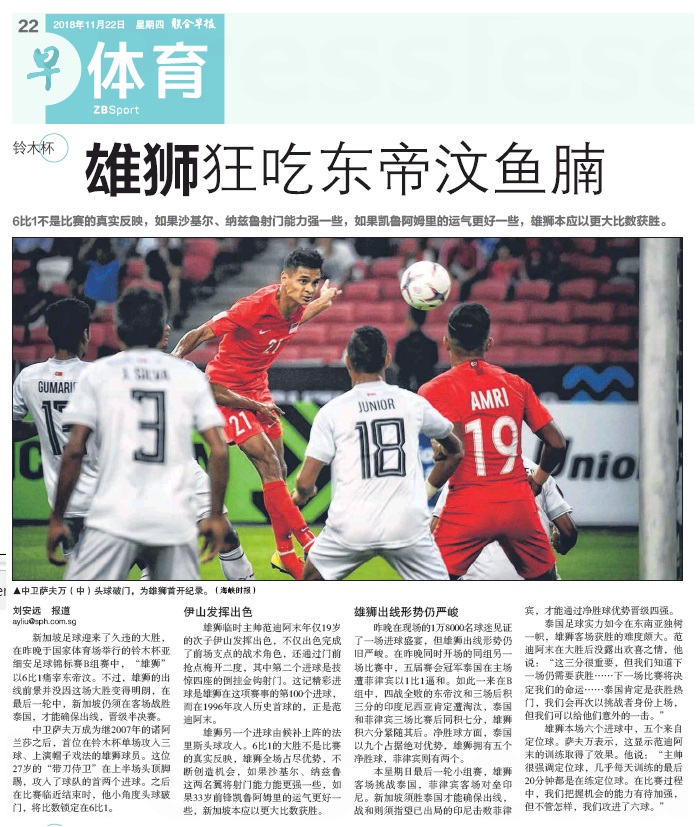 ZB, BH, and TM had provided fair and balanced coverage of the Nov 21 match. Kudos to them.
But some may say this was merely a football match and not some important national issue, so, take it easy perhaps.
Well, yes and no. Yes, it's only football. But if we're seeing bias even in the reporting of an activity that's meant to entertain Singaporeans, isn't it likely that we'll also see bias in the reporting of political issues that affect our lives? Is that what we really want from our national newspapers?
Some may still doubt that ST was showing bias by putting Ikhsan in the forefront. They could be right, but they might also want to read this ST Forum letter published last month, which called ST out for writing a puff piece about Fandi Ahmad's second son.
Fans of Ikhsan may reject any notion that the 19-year-old is favoured by certain media outlets primarily or even partially because his famous father is highly respected within Singapore's football community. They may also point out that Ikhsan has proven his calibre by signing for a Norwegian club, perhaps justifying all that media attention, even if it was excessive.
But not everyone is going gaga over Ikhsan's move to a second-tier club in the Norwegian league, which is lowly ranked in Europe. A netizen (Akiren Chan), clearly unimpressed, commented on this Singapore Football Review Facebook post to express his views.
Regardless of what we think of a Singaporean footballer joining a Norwegian second-tier club, the bottom line is that when newspapers give readers reasons to doubt their objectivity in reporting, it only serves to undermine the papers' own credibility.
What sort of sports coverage would you like to see in Singapore? Tell us at community@ricemedia.co.